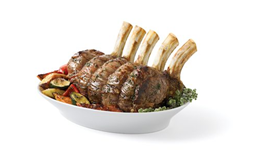 Preparation time: 15 minutes
Cooking time: 60 minutes (medium)
Serves: 4
1.5 kg standing beef rib roast, trimmed
2 tsp olive oil
¼ cup chopped fresh herbs (sweet marjoram or oregano, thyme, rosemary)
a small wedge butternut pumpkin, cut into large chunks
4 medium potatoes, peeled and halved
2 red capsicums cut into large chunks
3 zucchini. thickly sliced
extra 1 tbsp olive oil
Preheat oven to 200ºC. 
Brush or spray the beef with oil and season with pepper and half of the chopped herbs. Place the beef rib in a roasting dish. 
Toss the vegetables with remaining herbs and the extra oil, set aside. 
Roast the beef for 45 minutes for rare, 60 minutes for medium and 75 minutes for well done. For ease and accuracy use a meat thermometer. In the last 35 minutes of cooking time surround the beef with the vegetables. 
Remove beef, cover loosely with foil, and rest beef for 15 minutes before carving and serving with the vegetables.
Recipe and picture courtesy of Meat Livestock Australia
Suggested roasting times per 500g for: Rib eye/scotch fillet, rump, sirloin, fillet/tenderloin, standing rib roast, rolled rib beef roast
Cook at 200ºC. Rare 15-20 min per 500g, Medium 20-25 min per 500g, Well done 25-30 min per 500g.
Amazing red meat tip
You will have extra roast leftover to enjoy in wraps, sandwiches or salads.