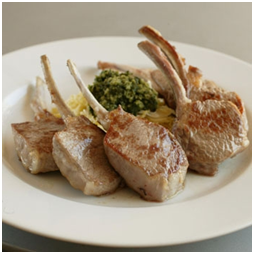 INGREDIENTS FOR 4 SERVES
Slice of bread
1 tbsp of red wine vinegar
1 cup of tarragon leaves (stems removed)
1 clove garlic
1/4 cup of extra virgin olive oil
salt and pepper
1/4 of a savoy cabbage
2 tbsp of red wine vinegar
3 tbsp of extra virgin olive oil
6-8 lamb cutlets per person.
The French love Tarragon. So much so that it forms the basis of many of their classic sauces such as bearnaise, ravigote and tartare. Mixed with fresh parsley, chives, and chervil, it's known as fines herbs, a combination used to flavour anything from omelets to braised and baked vegetables to poultry, fish and meat dishes.
Method:
To make the salsa
Moisten a slice of bread, crust removed, with a tablespoon of red wine vinegar. Place the bread, a cup of tarragon leaves (stems removed) and a peeled garlic clove into a food processor with 1/4 cup of extra virgin olive oil. Add a couple of good pinches of salt and pepper, and pulse until the salsa has fully blended. Store in a jar in the refrigerator until needed – it will last a couple of weeks.
Finely slice 1/4 of a savoy cabbage and toss with 2 tablespoons of red wine vinegar and 3 tablespoons of extra virgin olive oil. Season and stand for half an hour, tossing two or three times.
Depending on their size, allow six to eight lamb cutlets per person. Brush each one lightly with some olive oil and barbecue for 2 minutes on each side.
.
.
.
To serve 
Arrange the cutlets on top of the cabbage. Season with salt and pepper, and then serve with the tarragon salsa.
Recipe courtesy of cuisine.com.au, Chef: Steve Manfredi, Photo: Natalie Boog Source: The Sydney Morning Herald
For more products and delicious recipes go to http://www.herefordhomedelivery.com.au