HOW HEAVY IS HANK THE HEREFORD BULL?
By Hereford Prime, Wednesday, July 25th, 2012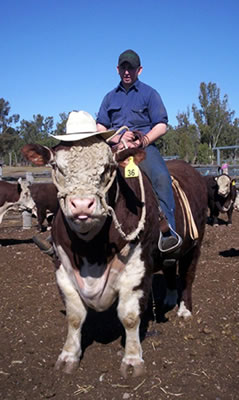 Well, now that we have contacted the winner of the "How heavy is Hank the Hereford Bull" competition I can now officially tell you that he weighs 1059 Kilograms!!! 
Congratulations to Greg Heesom who guessed Hank's weight correctly and wins a $75 Hereford Prime Meat Voucher!
Worth a mention is also Jolin Ferguson, who was just 1 kg out with 1058kg!
Thank you very much to everyone who entered into this competition, we hope you had a great day.
---
 Hereford Prime's Hank the Hereford Bull and his very talented handler Patrick O'Leary are now stars on YouTube! 

Click here to watch the short video clip.